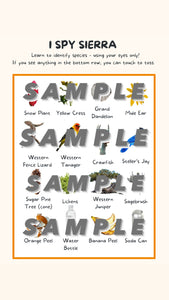 I SPY SIERRA download
Grow.Wild.nCo
Regular price $10.00 $5.00 Sale
Hello!  My name is Amber of @brunettetahoette and I am fundraising to self-publish a children's book by selling a downloadable poster turned game called I SPY SIERRA.


I made this to encourage kids to get outside with their parents and make it fun while learning to identify nature. Conservation after all starts with (early) education. 


The hope is your kids as young as 1 can find many of the I spy "characters" on the trail systems.  We have some of the coolest and rarest flora and fauna in the area and the next generation will continue to preserve it!